Rachael Taylor Fawsitt shares her top tips for redecorating your home.
Disclosure: This blogpost was sponsored by Dulux and was originally shared on Lovelytomeetme.com.
A couple of months ago, I decided it was time for a home makeover. When I suggested giving the house some love, my landlord jumped on board straight away, so I rolled up my sleeves and dug in.
I've been living there for almost three years, and was really excited to finally put my own stamp on the place. So far, I've tackled the kitchen, utility and the main bedroom.
Along the way, I've made many mistakes. For example, I dropped an entire tub of paint (not just any paint either, GLOSS!). I changed my mind about colour halfway through one of the rooms. I also foolishly decided to get a manicure the day before I started.
I advise you not to do any of the above.
With all that said, I like to think that I learnt a lot from these mistakes. I now have some pretty useful DIY tips to share with fellow DIYers and the house is really starting to take shape.
I know what it's like to find yourself on the verge of a DIY mission. You are filled with enthusiasm. Maybe you've been lamenting over a certain room for the last few years. Or, maybe you suddenly woke up a week ago and felt like 2004 rang and wanted its wallpaper back(!!). Either way, you're ready for a change.
You do things like create a board on Pinterest. You indulge in luxurious fantasies of high thread counts. You follow ALL the interior pages online and you become an overnight whiz kid. Personally, I found myself using DIY lingo almost straight away. I started dropping phrases like "creating texture" and "pop of colour", much to the amusement of my other half.
But what happens when you dive into your DIY project only to realise, amongst the excitement, you forgot A LOT of vital pre-steps?
Well fear not. As someone who has made all the mistakes, fixed them and lived to tell the tale, I'm here to offer you some pre-DIY tips that you can use to prepare for that dream home make-over.
Plan, plan and then plan some more
Rather than arriving at your local hardware with no idea what you want, start looking online for colour and style ideas. If you are working with a small area, take your inspo from rooms that are similar in size.
Here are some DIY must haves:
GOOD paint brushes – I cannot stress this enough. A good set of brushes will save you hours of hardship.
Covering for your furniture and floors - I used newspaper for the floor and a little masking tape to stop it from slipping when I stood on it.
The finishing bits and bobs – Be sure to include the ceiling and woodwork as part of your room makeover. It's amazing what a difference touching up these two things can make. Dulux are currently offering a free 'Room in a box' set with every 5L of Dulux Easycare you buy – the set includes 2.5L of Ceiling Paint and 750ML of Easycare Satin Wood paint.
White spirits – Get yourself a big bottle of this stuff. It will make the cleaning process so much easier, and it is also great for any little mistake you make when you are cutting in (that's basically doing the edges to you and me). Alternatively, if you're going to be painting with the same colours for a few days, you can wrap the brushes in cling film and this will stop them from drying out.
Plan your meals
Food is important, it gives you much needed energy for DIY. So, if you are redecorating your kitchen, make sure you plan your meals ahead.
Because of our small yard we don't have a big BBQ, so we decided to stock up on a couple of disposable ones beforehand. We enjoyed fish, chicken, pork and lots of other food outside during the 6 days we were unable to use the kitchen.
Of course, you can order takeaway. However, if it is going to take you longer than a day or two you might want to look at some cold meal options too so you can avoid overdoing it on the junk food.
Say goodbye to some of your stuff
No matter how prepared you are, you will still end up grabbing something you hadn't planned to use at some stage. I found myself using a sock to wipe paint from my mirror in a hurry during the bedroom makeover!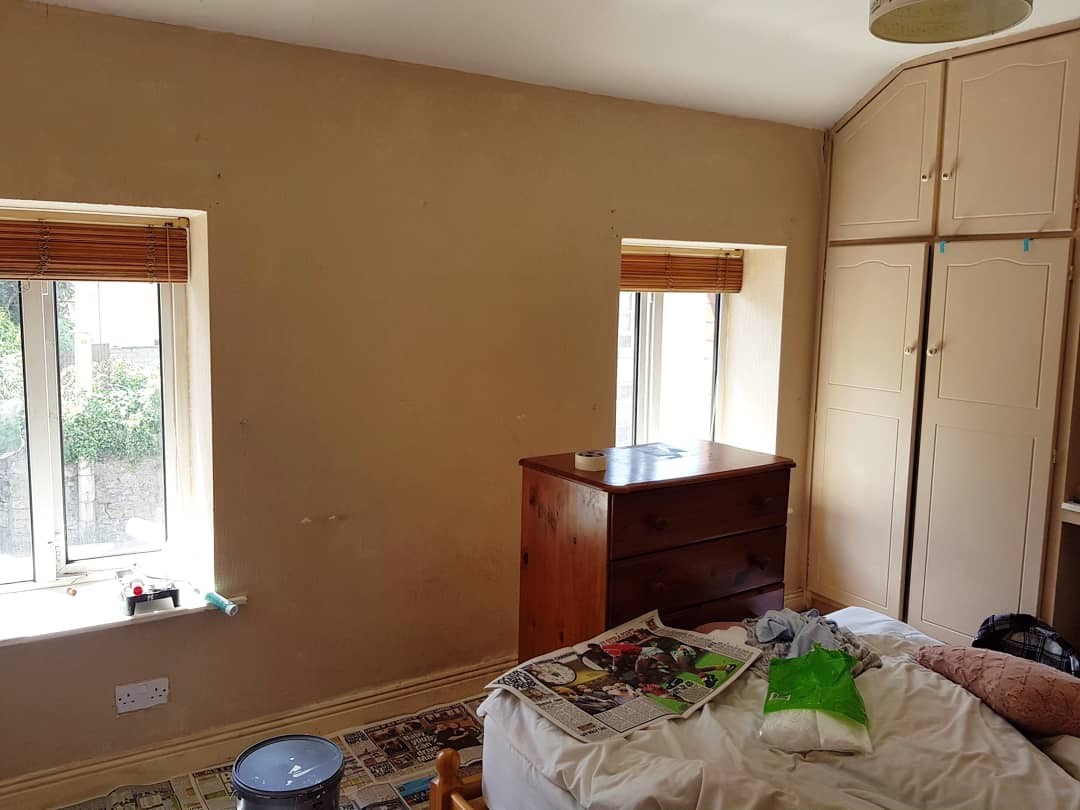 Have a small pile of old cloths at the ready for those occasions. Even if you take an old t-shirt and cut it into smaller piece, this should help to reduce your chances of ruining all the 'good towels' during your makeover.
Make sure you pick a DIY outfit, something you won't mind never wearing in public again. You WILL get paint on yourself while you work – it's inevitable. So, find something old and embrace the mess.
A basic rule to remember is: if you don't want to paint it then cover it or move it. Move whatever you can to another room and then cover anything that's left. This includes counters, couches, sinks and fireplaces.
Don't underestimate the time
It may take longer than expected to get to the finishing line, so allow for that. In other words, don't plan to redo the guest bedroom three days before the in-laws are due to visit. Give yourself enough time to avoid stress, and for any fumes to clear.
Lastly, make sure you allow for some down time in the middle of your DIY mission. Make time for the family, stop for meals and get out of the house every so often so you have a chance to reenergise.
Checklist (screenshot me)
Sometimes it's the simplest things we forget when we start any project. Take a screenshot of the below and have a simple check list to hand when you do your supply-run:
A paint roller and tray
Paint brushes – one medium-sized, one small
A mixing stick
Masking tape
The right amount of paint for the job, in the colour you want
Drop cloths or plastic sheeting (for covering furniture and fixtures)
Absorbent cloths (for dusting down walls and wiping up spillages)
A step ladder (for getting at those hard-to-reach spots)
Disclosure: This blogpost was sponsored by Dulux and was originally shared on Lovelytomeetme.com.
You can follow Rachael & the Lovely To Meet Me blog on:
Words by: Rachael Taylor Fawsitt